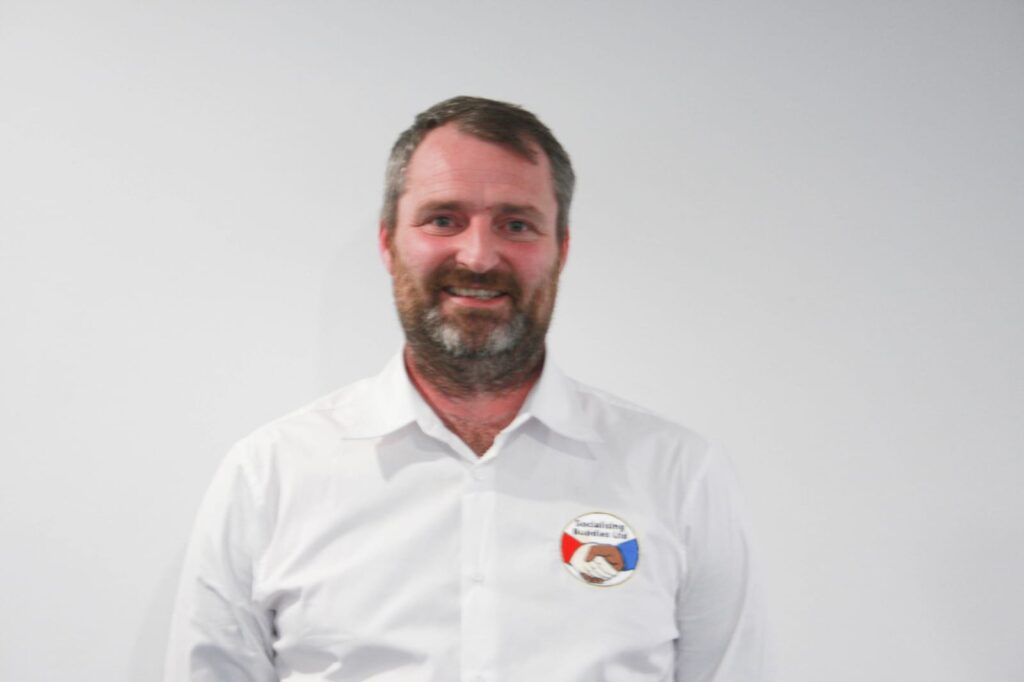 Mark Kelly | Managing Director
Mark is a qualified and experienced support worker who has worked with adults with a variety of mild to moderate learning disabilities. He is passionate about what he does and is a firm believer that everyone should receive the same opportunities regardless of age or ability!
Mark is experienced in one to one support as well as providing support in group settings. He has organised many successful outings and love seeing the enjoyment that others get out of experiencing new opportunities. Mark's aim is to provide a service that is open to all abilities. With a wide range of activities – there will be something to suit everyone! As well as the enjoyment and new friendships that will flourish from social outings; Mark also aims to promote independence and improve self-confidence in a safe and comfortable environment. He loves doing this work and seeing the difference the right support can make is what makes him want to do it more!
Mark really enjoys his role within the team – supporting clients out on activities, as well as being in constant communication, with SEN, Social Service and other professional organisations. Mark has completed his level 5 in health and social care. Marks background is in sports and manual work (as well as having served in the Army!). He loves getting 'stuck in' and is a great motivator – encouraging others to actively join in at their own pace. Mark enjoys checking out venues to ensure they are suitable as well as negotiating the best deals to ensure our clients get the most from their outings! Mark is very keen to make a difference to others as well as being passionate about changing attitudes towards disability!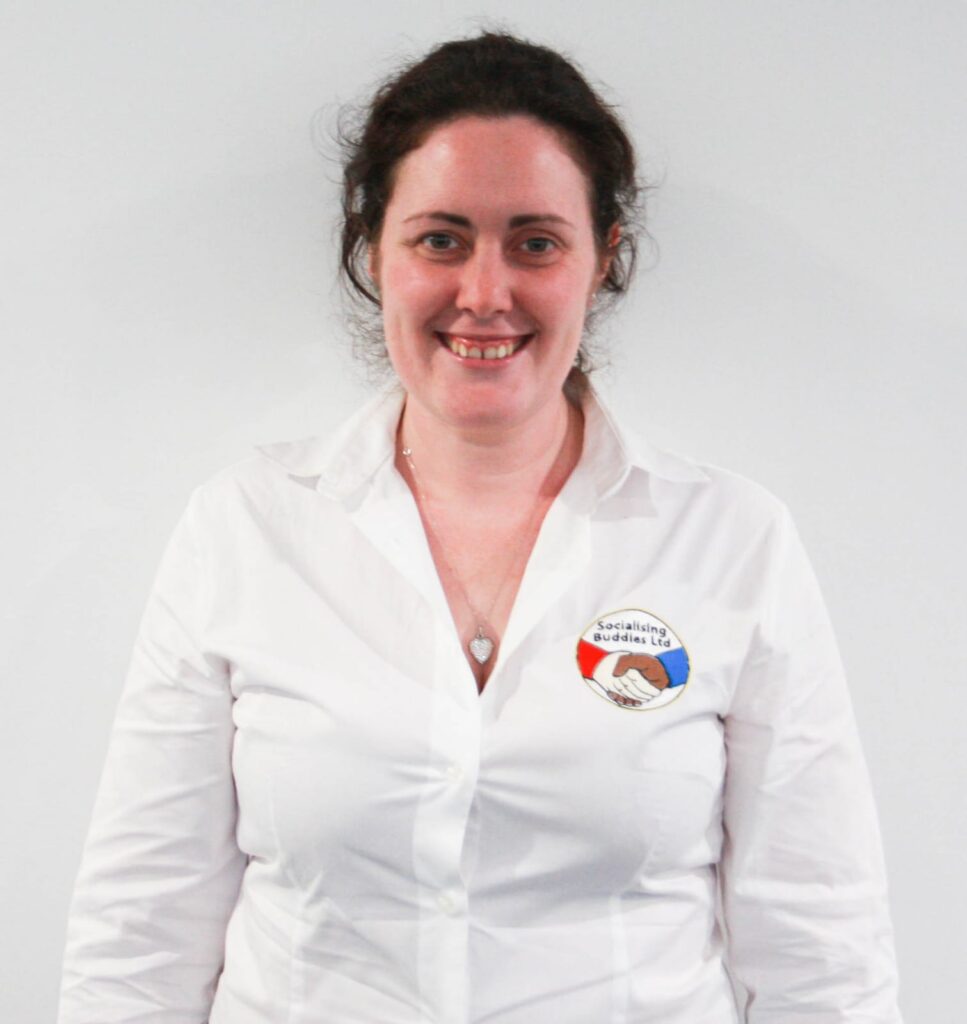 Charlotte Kelly | Managing Director
Charlotte has worked with adults with learning disabilities for nearly 8 years. Charlotte believe that everyone should have the same opportunities and be able to enjoy activities in a safe environment. Charlotte is very passionate about what she does and helping Socialising Buddies' clients to enjoy the activities we offer. Charlotte also gets involved and us very hands on in her work. Charlotte has enrolled in health and social care level 3 has an up to date DBS check, safe guarding and first aid. When she isn't working with Socialising Buddies she is busy being a mummy and running her own 3 successful businesses; a dance school, dance trips to the West End and Europe, and her own dance wear shop.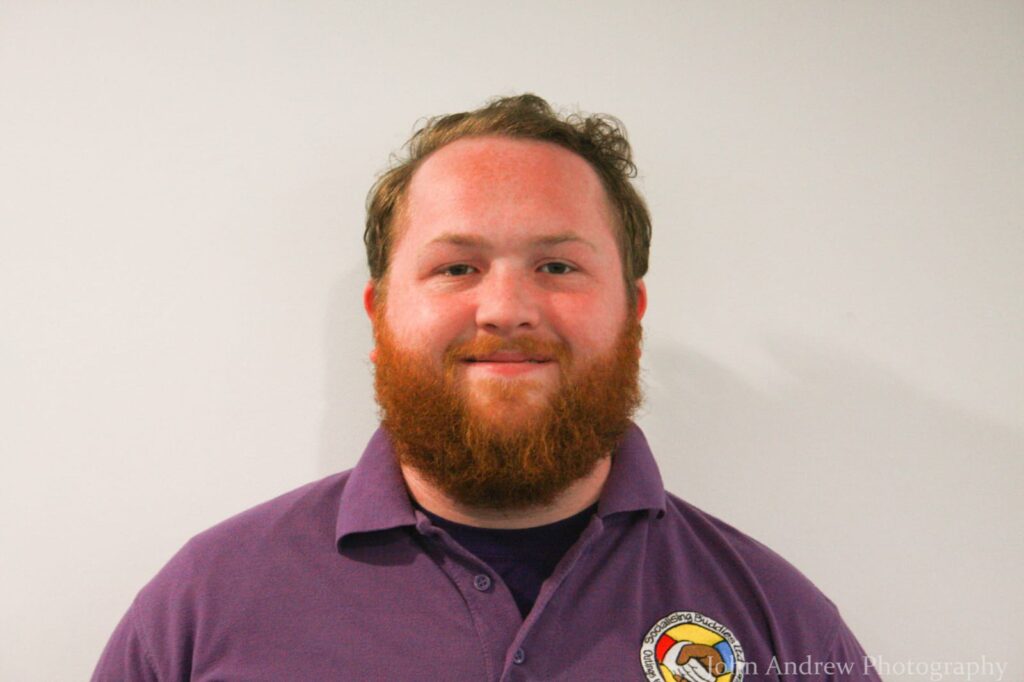 Greg has worked for many years with adults and children with learning difficulties have started by using music therapy and music workshops to help engage with people with dementia and adults with learning difficulties in the care setting and community. This helped Greg to write his dissertation on the subject and lead to his Degree in Commercial music. Since leaving his degree, Greg moved into the role of a carer joining the Socialising Buddies team 3 years ago and has currently finished his NVQ Level 3 in Health and Social Care. He has attended many courses including Safeguarding, medication, emergency first aid and is fully DBS checked. Through the just over 3 years that Greg has worked for the company he has gone from strength to strength and built a good relationship with all the staff and clients, he worked hard as a supervisor and was then brought on as a manager to join management and help this company continue to Thrive. Greg is an ex qualified lifeguard and enjoys action sports and all outdoor activities and is a professional musician and event organiser in his spare time and currently working towards his NVQ Level 5.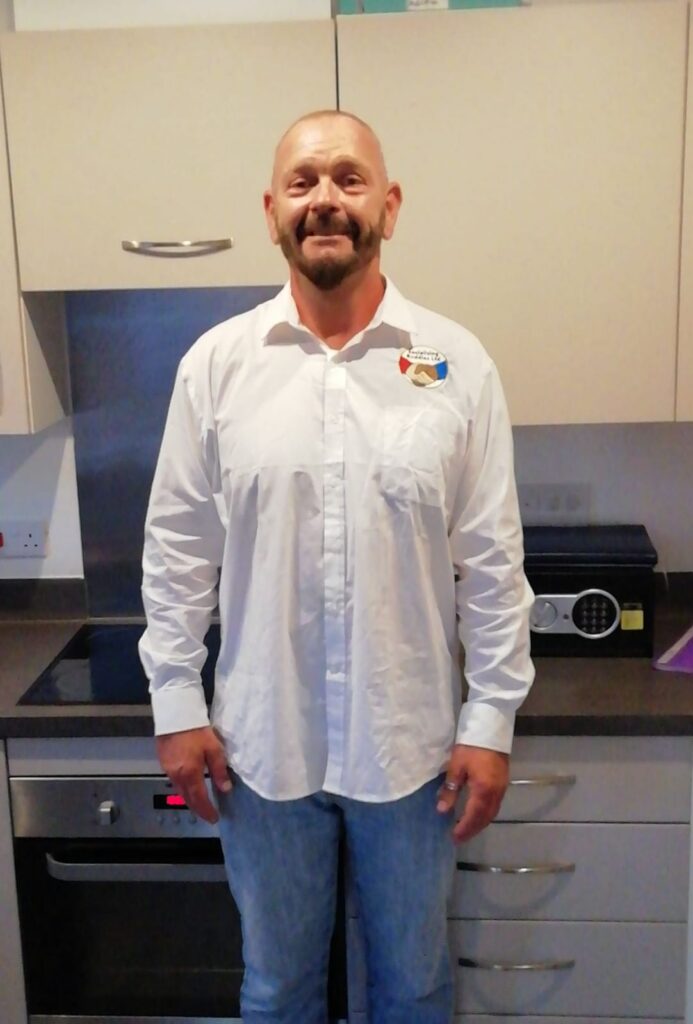 Ashley Albon | Assistant Manager
I have been lucky to have had opportunities to work in an array of different aspects of the care sector for over 20 years. In that time, I have been a residential social worker in a care home for learning difficulties, youth worker in London education support centre specialising in challenging behaviour, child care-worker in various different children's homes in Hertfordshire. Welwyn and Hatfield Housing support team-settling and supporting clients with LD, into their new homes.
I am up to date with all the required training that is necessary for my role and have a diploma informal education. I have always really enjoyed this area of work and encouraging independence, informed choices, sign posting, safe-guarding and mentoring clients in a positive way, to ensure the best outcomes for each individual.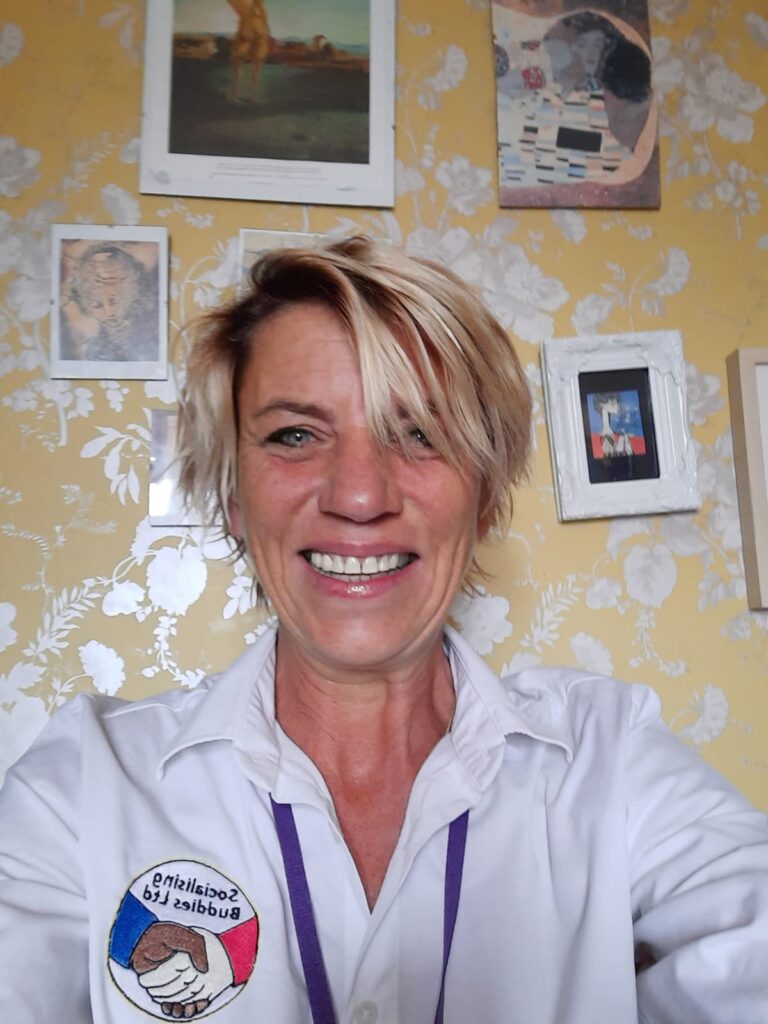 Kirsty Chapman | Supervisor 
Kirsty is a Graduate in Childhood. With many years of community-based work experience. Youth drama groups, helping young parents to Scout leading. She was a registered PA with the isle of wight service. With experience in Autism and Ld. She is trained in pediatric first aid. Medicine management and emergency seizure medication. Plus is qualified in PEG feeding. Kirsty loves being active in the community or equally on a 1 to 1 basis. With young or old. Since joining the team Kirsty has gone from strength to strength and has lead the team being promoted to Supervisor. She is currently working towards her NVQ level 5.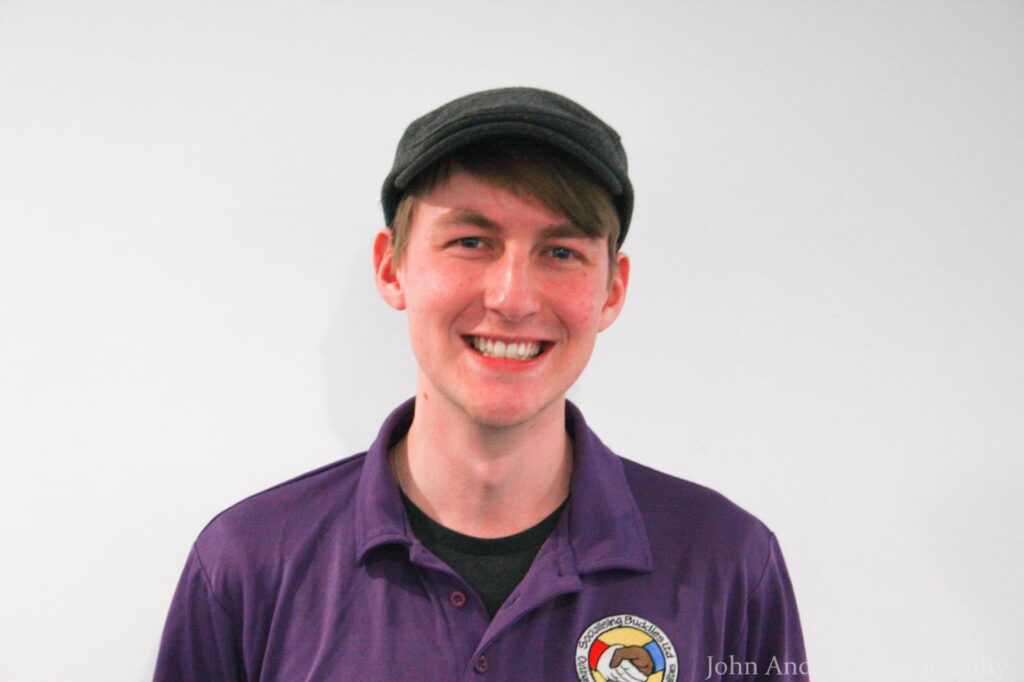 Jonathan Smith | Support Worker
Jonathan has worked for many years with both adults and children with additional needs. He has worked with Socialising Buddies for many years going on outings and giving people one to one care. He has attended many safeguarding courses, has many health and social certificates to his name, has an up to date Enhanced DBS check, is a licenced chaperone with the Isle of Wight Council, and is currently working towards his NVQ Level 3. He is fully qualified to give first aid, and he thoroughly enjoys giving people opportunities they may not be able to experience by themselves. In his spare time, he enjoys building computers and Virtual Reality.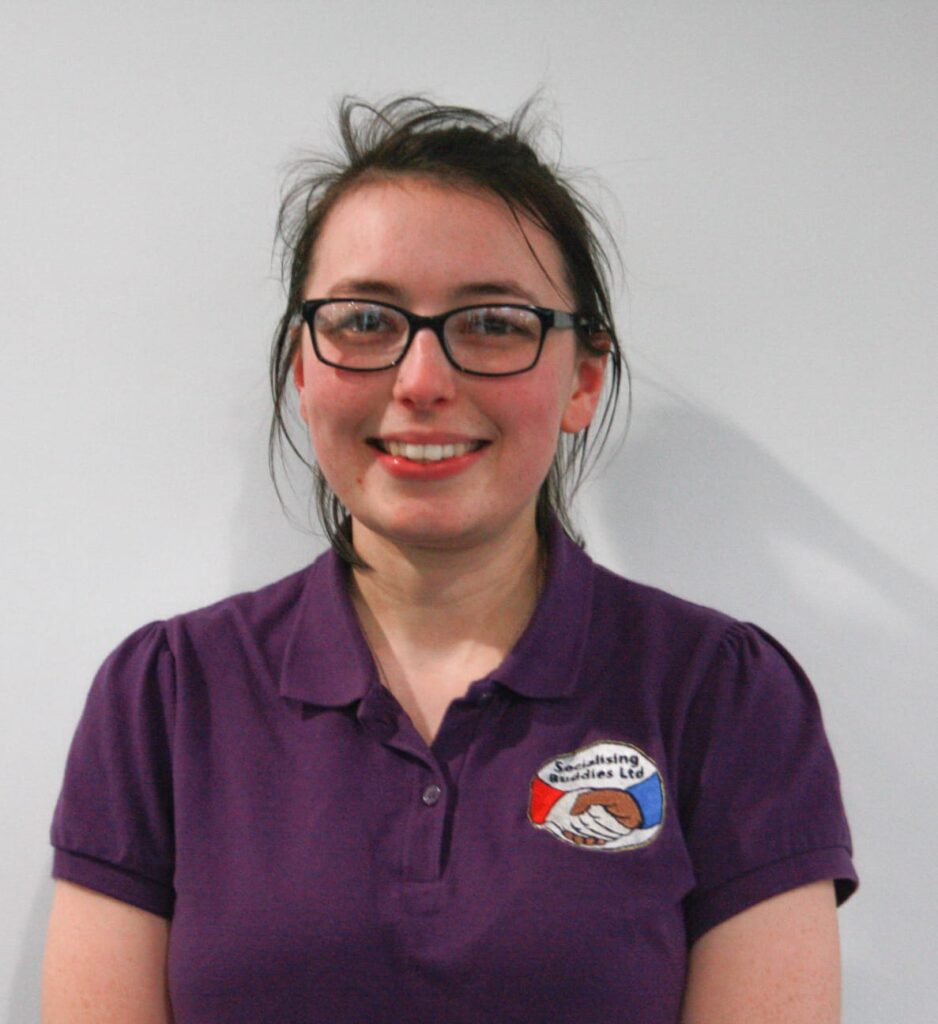 I have worked in a nursing home, caring for the elderly for the past 4 years. I enjoy helping people, I have lots of patience and I put my all into whatever I am doing. I am happy to help anyone in need. I have completed my Level 2 NVQ in Health & Social and recently completed my Level 3. I also have a Level 2 Certificate in the principles of dementia care.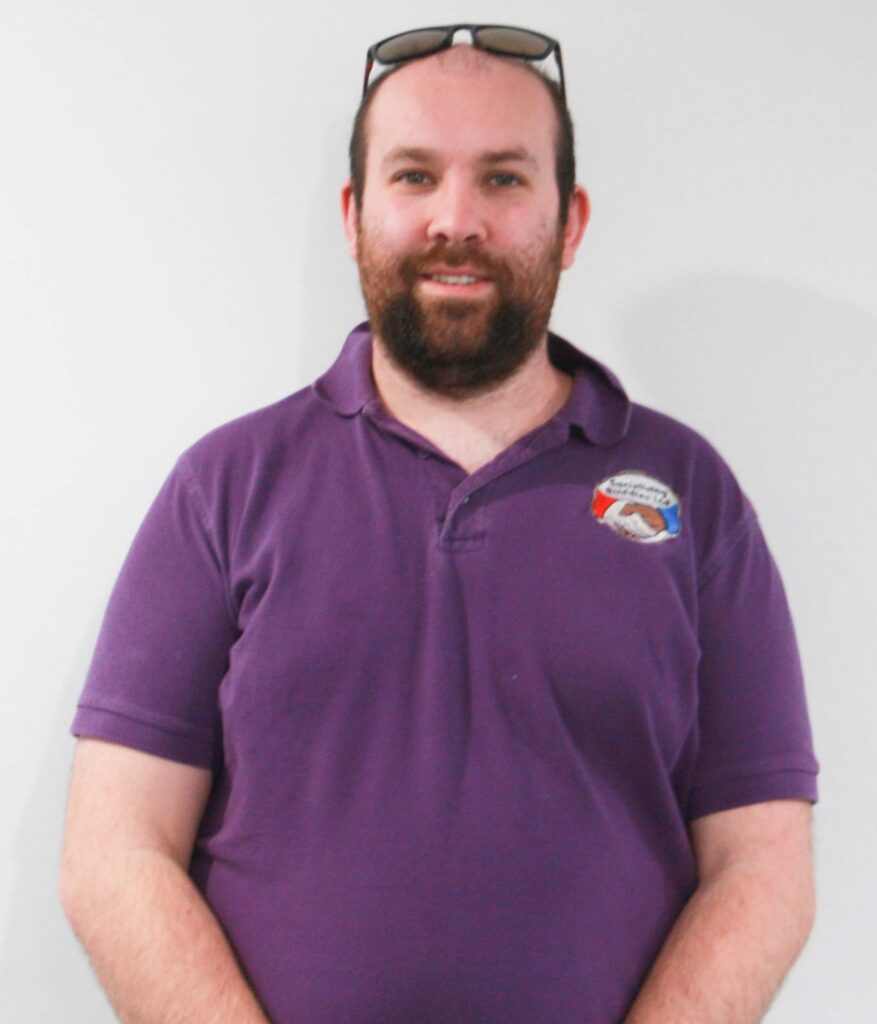 John Fielding | Support Worker
I am 25 years old and have worked as an outdoors instructor for 5 years and as a support worker for over 6 months. I love being out and working around people, it gives me great satisfaction to see the positive effects I have on people I support. I have worked with adults and children all over the world and enjoy the challenges each of them bring. I have 4 A-levels and a level 3 extended diploma in uniformed public services and hoping to do my level 3 in health and social care in the near future.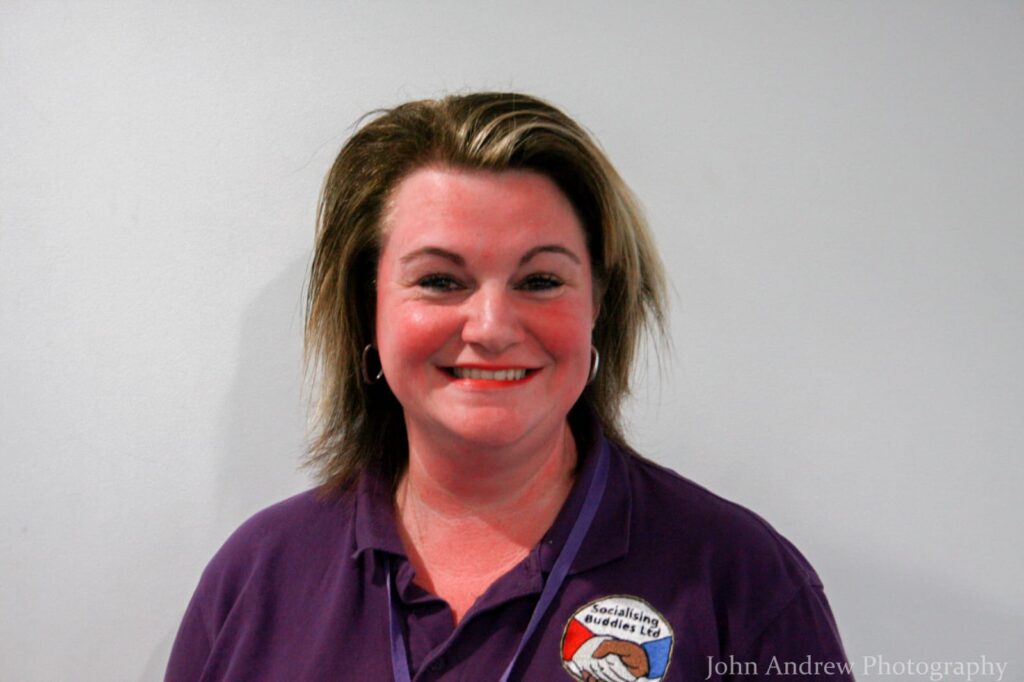 Becky Langham | Support Worker
On leaving school, I trained in a care home for 2 years on a youth training scheme gaining my qualification. I have an up to date DBS certificate and currently working towards my safeguarding and level 2 qualification. In the future, I'm looking to add to these doing first aid and other specialist courses. I'm a great listener and can offer good advice. I am born and bred on the island with good social, historical knowledge. I'm looking forward to getting stuck into my role as a support worker and helping to make a difference and improve peoples quality of life.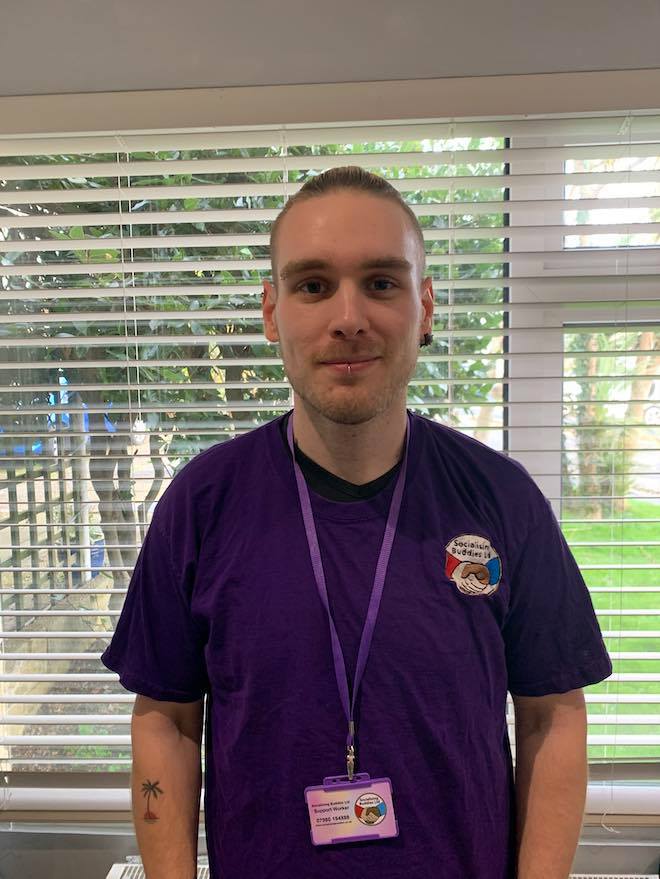 Jack is very new to the industry however since joining the company has received a number of good feedback from his clients and has really took to care work working towards a profession in Care with help from the managers of the company. In his spare time he is a musician/session drummer and front man of his own band. He has clean dbs and clean driving license and enjoys outdoor activities and sports.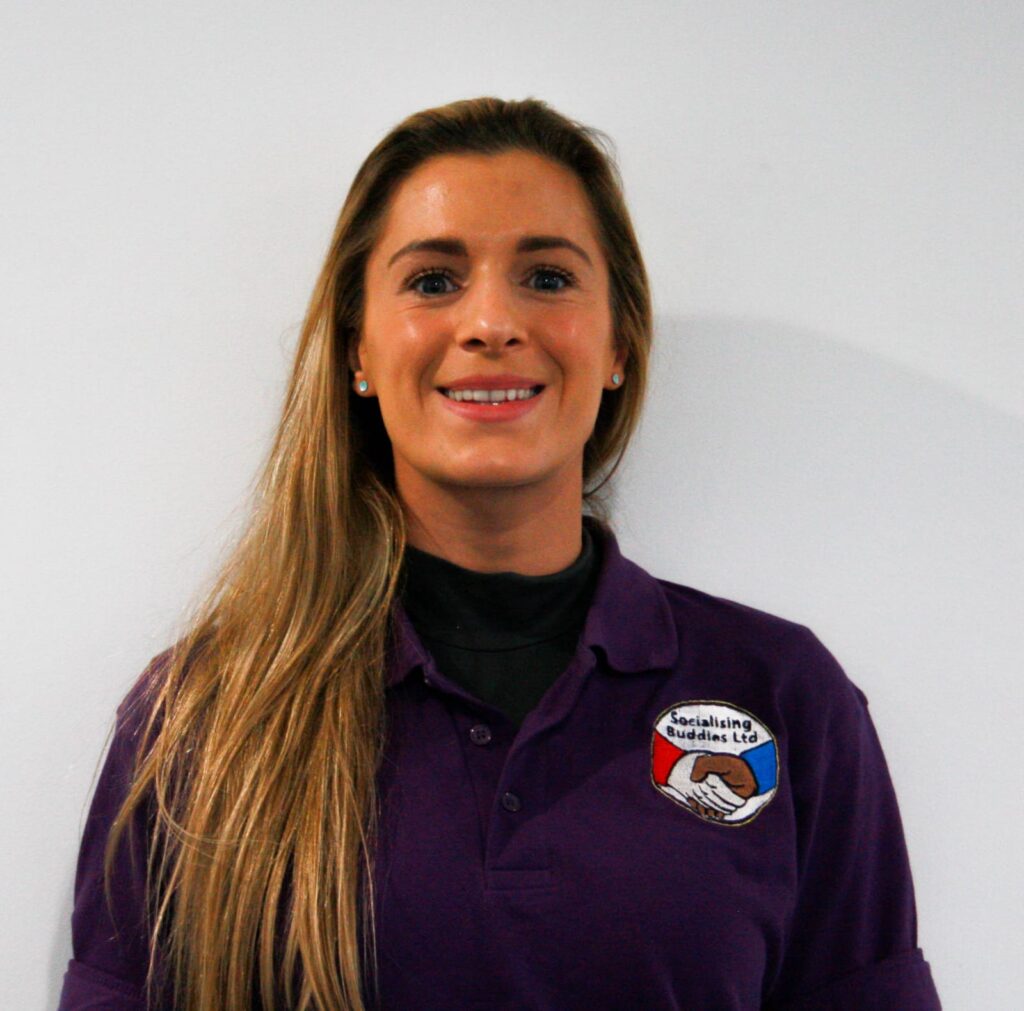 Blair Maynard | Support Worker
I am a caring, friendly and calm person and I have a passion to see every person thrive in whatever they do and whatever their ability, believing you teach each other. I worked for numerous years in an educational setting as a Special Needs/Behavioural Specialist, working with a variety of ages with mild to moderate learning disabilities/special needs. Having experience in one to one and group support. I completed extensive amounts of courses and training including Safeguarding during my time working at the School. Also obtaining an Honours Degree in Psychology.
I have an up to date DBS check and will be doing NVQ Level 1 in Health and Social Care. In my spare time, I enjoy being out in nature, seeing my family and friends, being creative and meditating.
I am so excited to be working with Socialising Buddies to make a difference.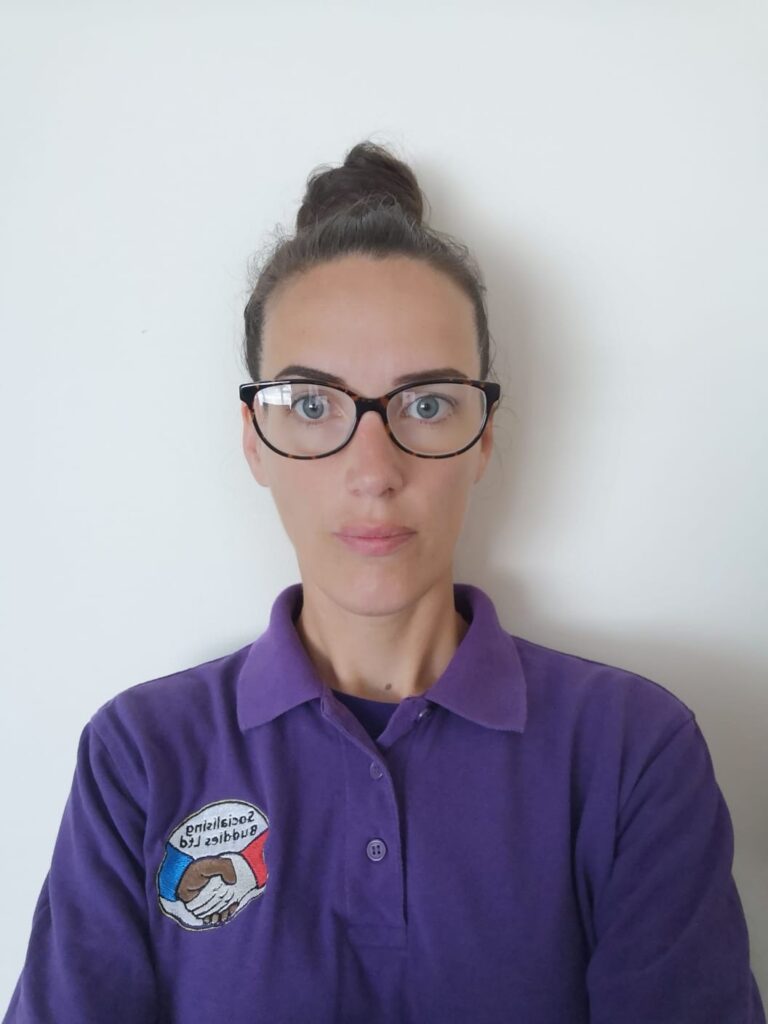 Sabrina Taylor | Support Worker
I like having a job where I know I am making a real difference in a person's life. I'm a friendly, compassionate person. I have studied hospitality supervisor & management and customer services, I have a level 2 in Health and social care. I have worked in care homes for over 2 years and have hands-on experience of children with additional needs. I have a clean driving license. In my spare time, I love to bake cakes and spend time with my family and children going on walks, swimming, days, out at the park and beach.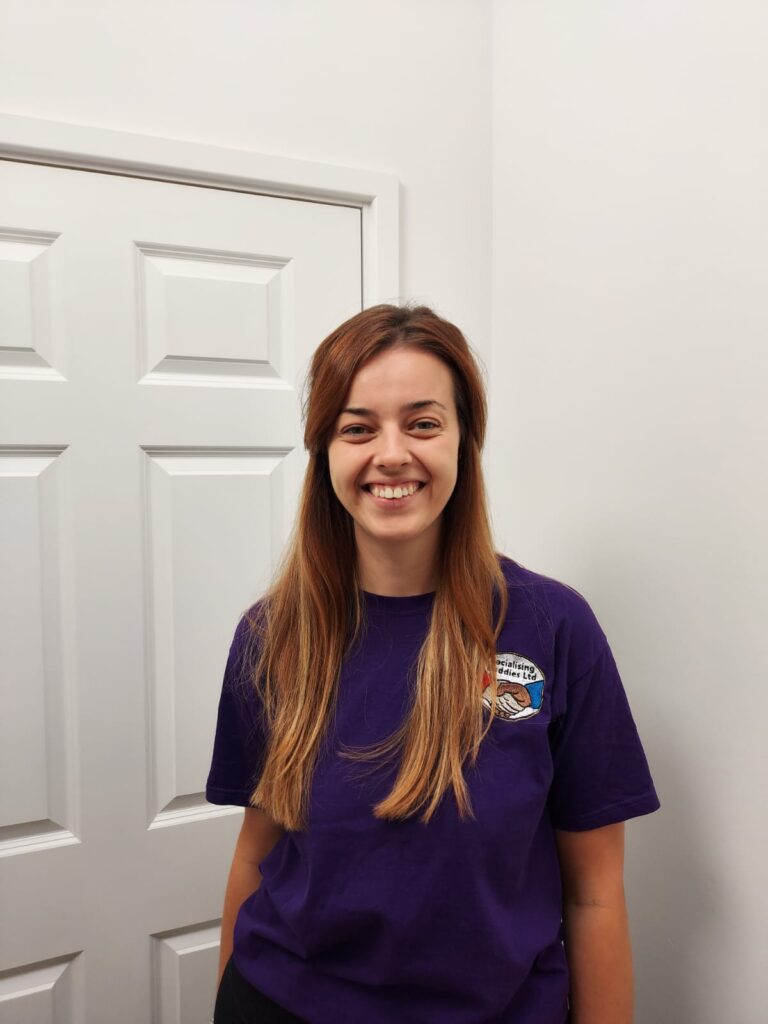 Im Jess, a caring and confident person, with a love of exploring the outdoors… even on a rainy day! You'll find me on country or beach walks with my family and our cockapoo, or at home baking and seeing to our veg patch! I'm originally from London, and moved down to the island 4 years ago.
I have previously completed a CACHE Level 2 Support Work in Schools course. Knowledge I have found useful in this job role. I hope to further my qualifications soon.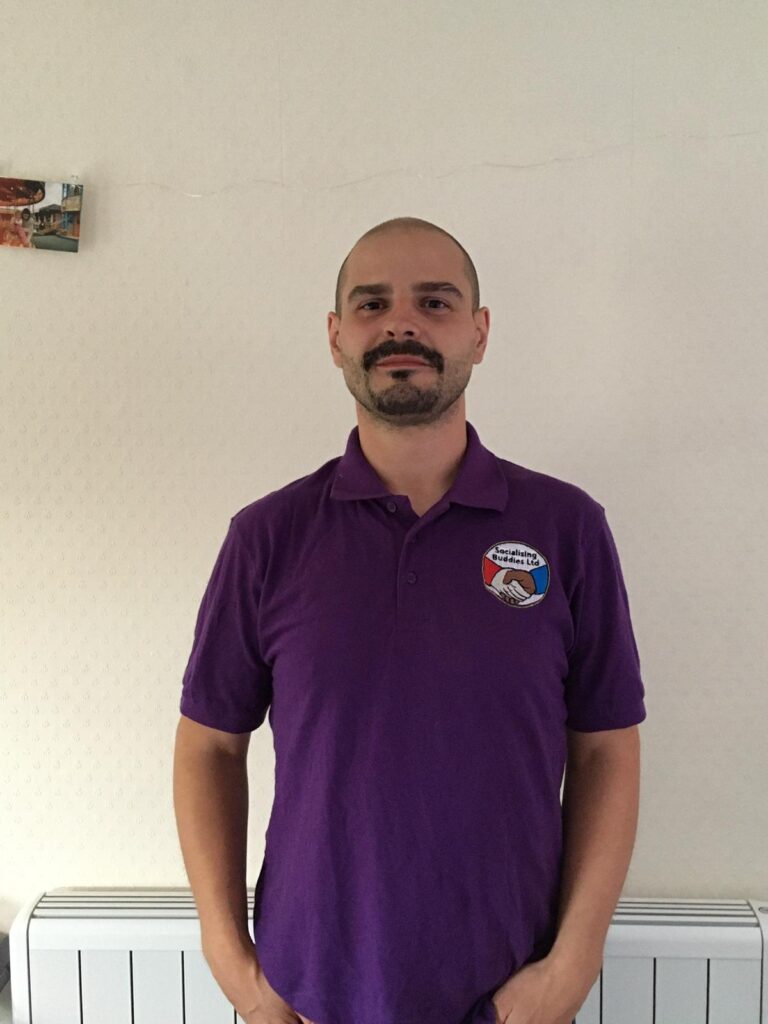 Sonny Aitken | Support Worker
Before working for Socialising Buddies, I worked as a chef in a number of different places. I then decided I need a career changed and joined Socialising Buddies as a support worker. I love meeting the new clients and getting stuck in with all the activities. In my spare time, I am bass player for a number of bands and enjoy gaming.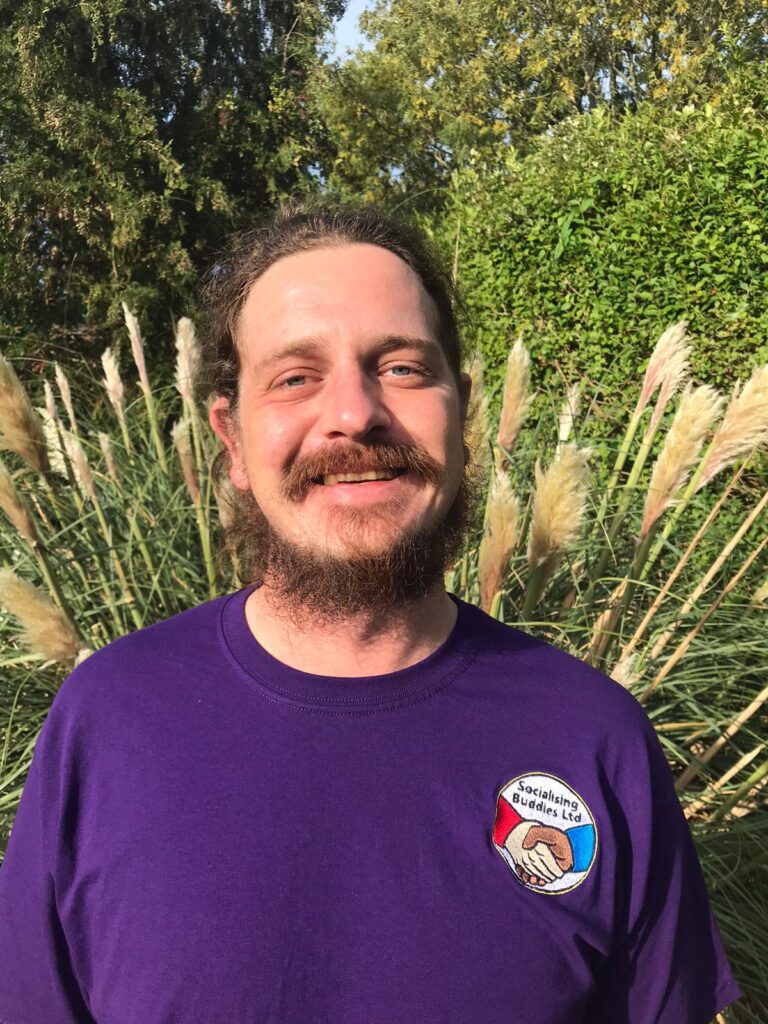 Sam Tilbury | Support Worker
Prior to joining the team at Socialising Buddies, I had worked in the retail industry for over a decade. I decided it was past time for a change and couldn't think of anything more rewarding than joining this great company and endeavouring to make the people who I'm working with lives easier and hopefully more enjoyable.
In my spare time, I am passionate about music and am an avid guitar player, currently playing as part of the three-piece covers band The Resisters.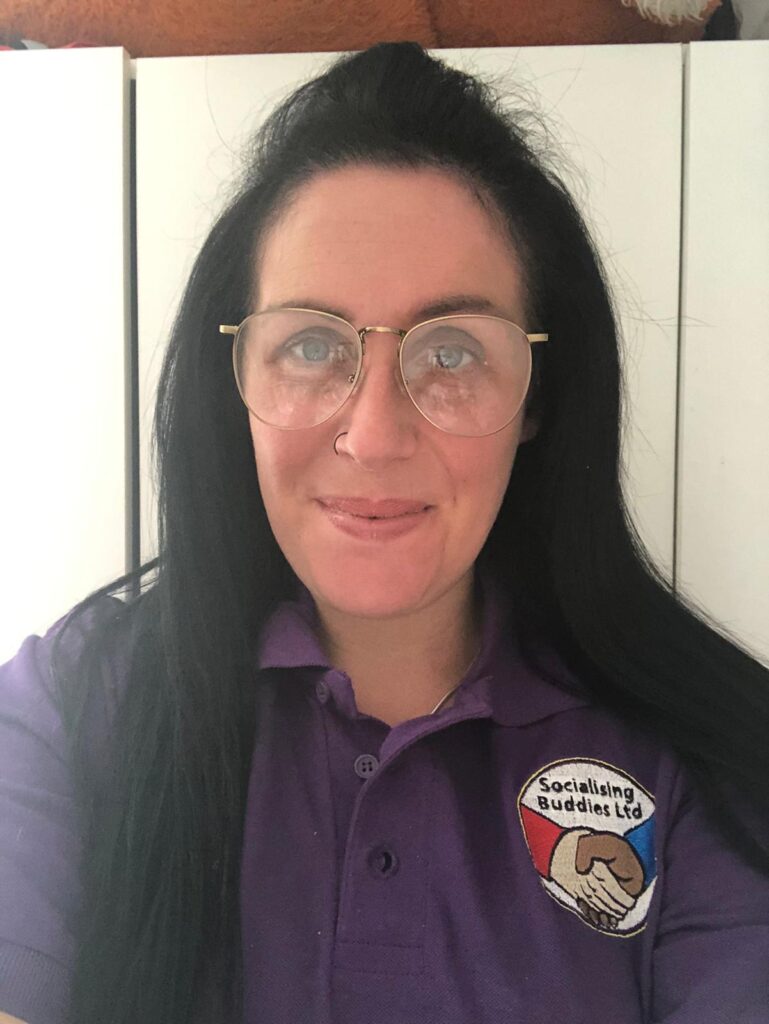 Sarah Gilliam | Support Worker
I'm Sarah a caring and enthusiastic person who loves to explore our beautiful Island. I am new to support work I have come from a retail background but it's time to start a new career in something I feel I can make a difference to someone's day. My son has ADHD and ASD so I have hands-on experience in this field and I want to enhance what I already know by starting my NVQ. My hobbies include walking my 2 dogs, the gym and eating out.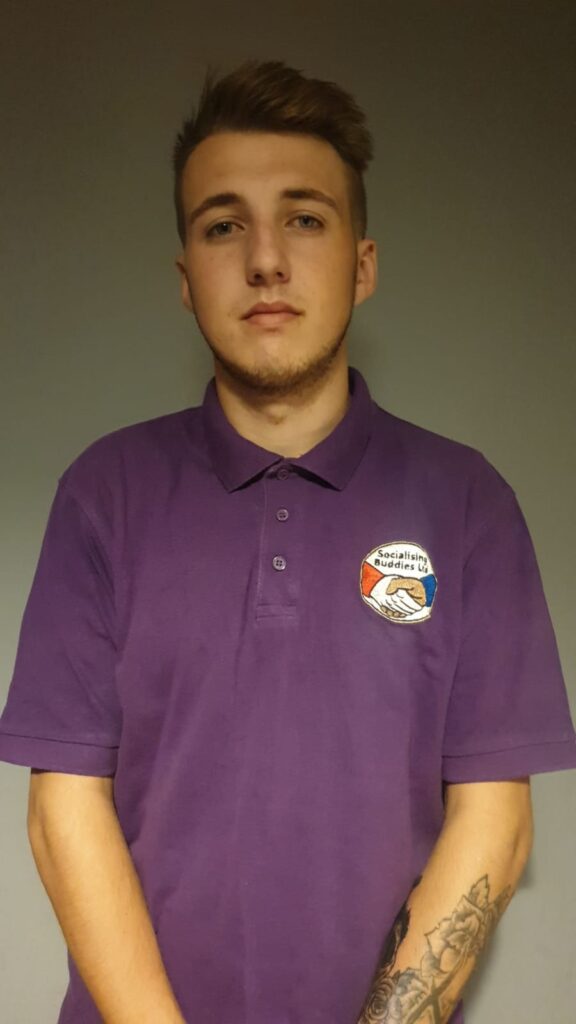 Aaron Jefferies | Support Worker
I'm 21 years old and started in care when I was 19. I started working in care at a care home in Gloucestershire when I was living there. The things I enjoy are, working on cars and photography including detailing cars. On my free days, I will spend with friends and family doing all sorts. Recently learning how to video edit and always looking to learn new things along the way.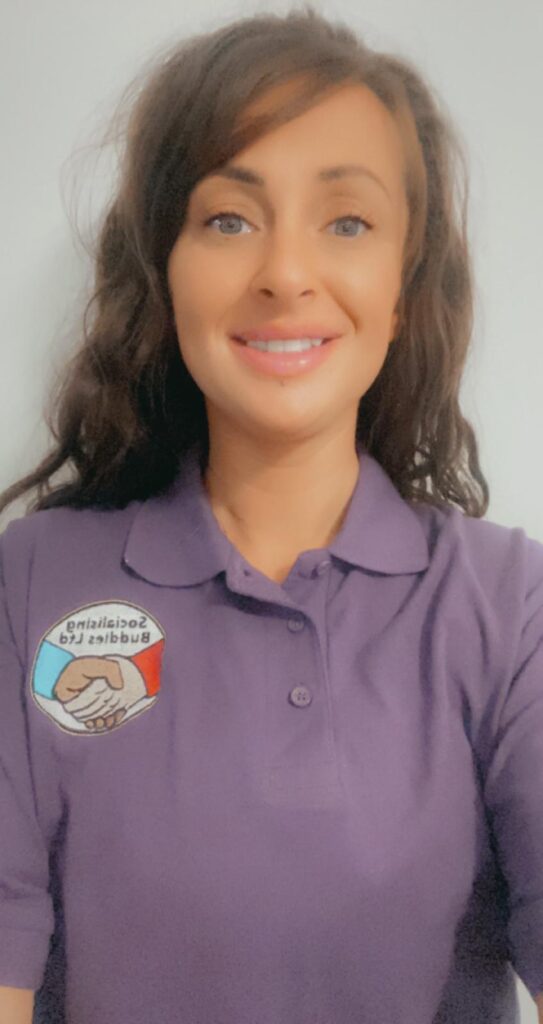 Amie Brett | Support Worker
I'm Amie, I have worked for around 15 years with adults and children with additional needs, I started as a support worker 12 years ago after I had my children. Since then I have been working as an emergency department assistant and more recently a mental health worker at The local hospital. I have completed many courses at my time at the hospital including paediatric and adult first aid and challenging behaviour and my NVQ Level 3 in Health and Social. I love to help others live a happy, fun-filled and safe life.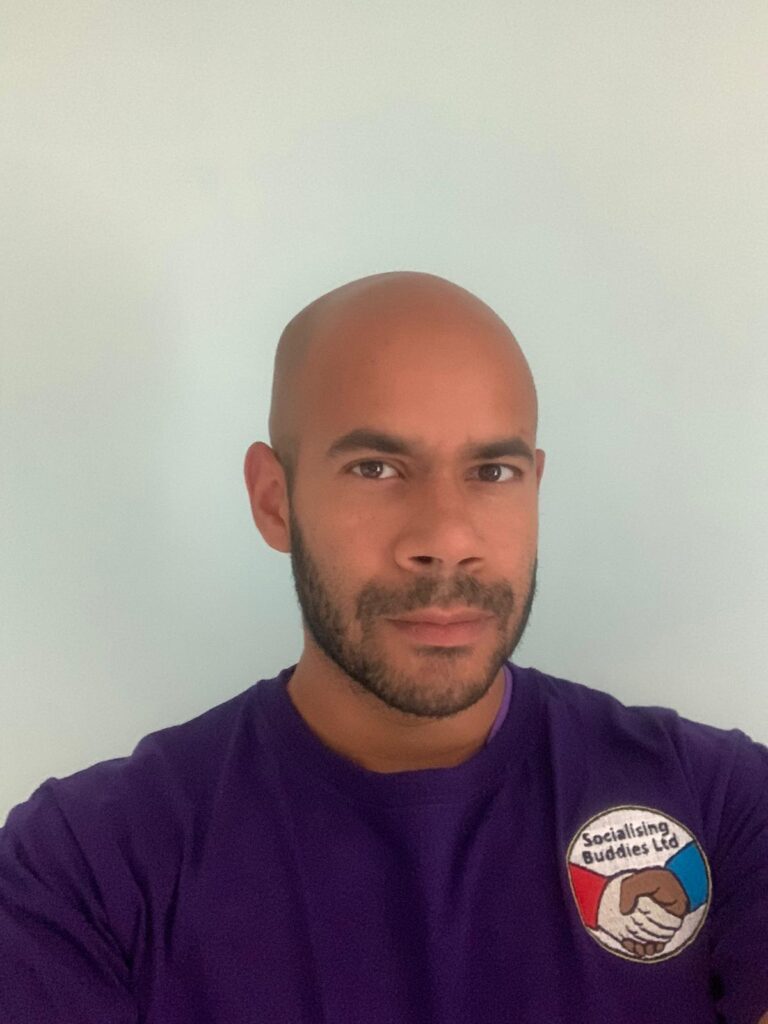 Tyrell Taylor | Bank Worker
I have worked with children and adults for 4 years now with special needs. Supporting them with anything they need to help them live and lead a more comfortable life, and to answer any questions they may have during their daily life. I studied health and social care in 2012 while living in surrey after coming here from North America in 2011. I've also completed an Introduction to Adverse Childhood experiences (ACE)and early trauma certificate. In Health & social care and achieved a certificate of higher education in Health and Social Care.
I enjoy working out, gaming and of course…spending time with the wife and kids!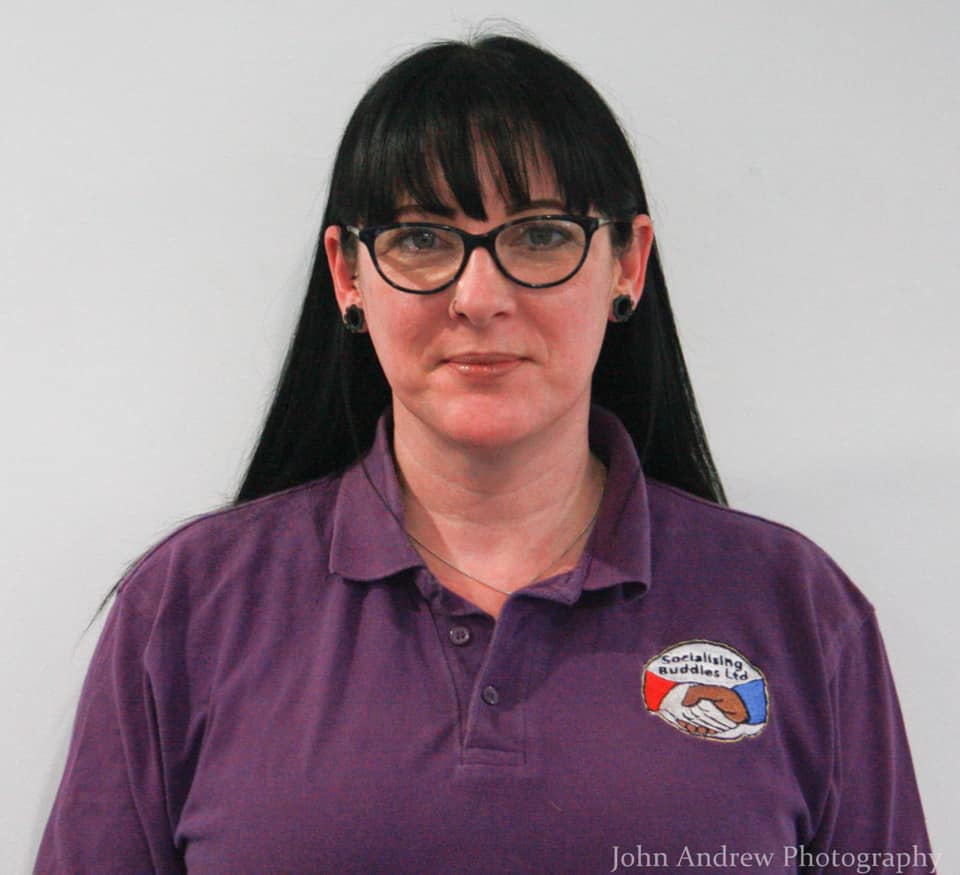 Joanne Hobson | Bank Worker
I have worked in a variety of settings for the last 21 years. I wanted to be a support worker for people with learning disabilities since I was 13.
My first job was in a family-run residential home. I gained valuable experience and qualifications whilst there. I went on several holidays with the residents, including an activity holiday in Wales.
I was the manager of a social group for adults with learning disabilities, organising groups, holidays and day trips.
I then spent 4 years working on an acute psychiatric inpatient unit. I ran emotional coping skills groups and won an N.H.S award. I gained knowledge in many areas of mental health and worked on the intensive care wards and over 65's in the unit.
I work in a day centre where we offer many different types of activities. I have done training in positive behaviour support, p.e.g. feeding, autism awareness, BTEC in medication administration and NVQ 2 in health and social care.
I have worked with clients with complex needs and had training incontinence training.
I have taken a course in Makaton and hope to do more.
In my free time, I do a re-enactment. I enjoy watching live music, going for long walks and camping.